We aim to create and develop an understanding of the ever changing world in which we live and to develop the necessary skills to take an active role in the community.
At Rosherville we follow the Jigsaw scheme of work for the planning and delivery of PSHE. The programme of study is adapted to provide a relevant and age appropriate curriculum. Jigsaw is designed as a spiraling whole school approach, with all year groups working on the same theme (puzzle piece) at the same time. There are six puzzles in Jigsaw that are designed to progress in sequence from September to July. Each puzzle has six pieces (lessons) which work towards an 'end product'. Each piece has two 'Learning Intentions': one is based on specific PSHE learning and one is based on emotional literacy and social skills development to enhance children's emotional and mental health. Every piece contributes to at least one of these aspects of children's development. This is mapped on each piece and balanced across each year group.  Mindfulness is at the heart of the Jigsaw scheme and each session starts with a mindfulness activity to ensure children are ready for learning.
The different puzzle pieces are: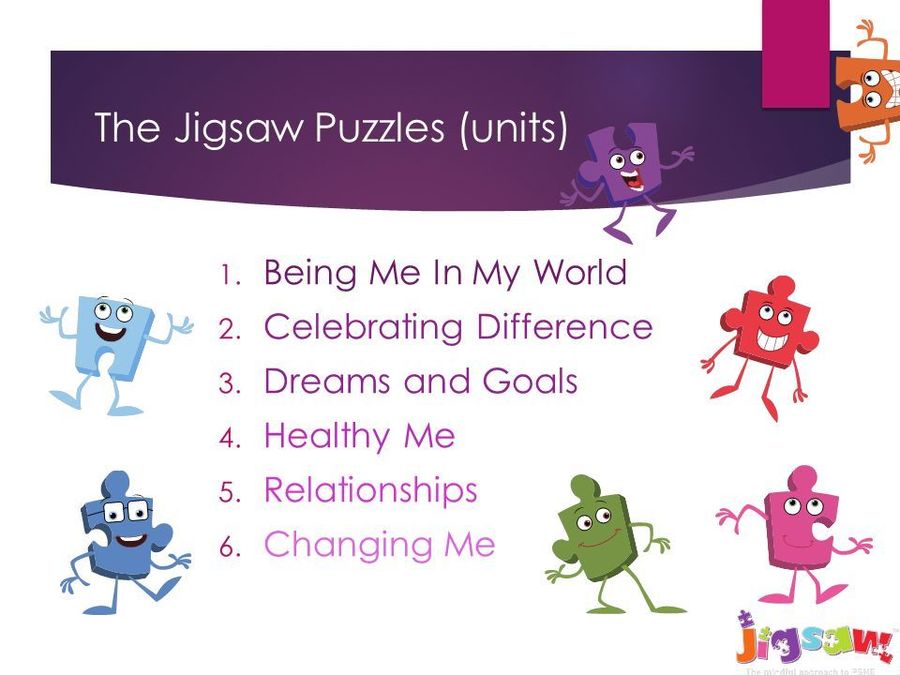 Relationships & Sex Education
An important part of the Jigsaw PSHE programme is delivered through the 'Relationships' and 'Changing Me' puzzle pieces which are covered in the summer term.
There are four main aims of teaching RSE:
• To enable children to understand and respect their bodies
• To help children develop positive and healthy relationships appropriate to their age and development
• To support children to have positive self-esteem and body image
• To empower them to be safe and safeguarded.
Further information about how the school approaches the teaching of Relationships and Sex Education through the Jigsaw programme can be found within the documents listed below:
Parent/Carer guide to Relationships & Sex Education